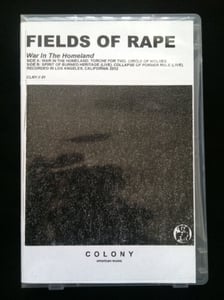 $

5.00
FIELDS OF RAPE
"War In The Homeland" C-15
CLNY // 01
Five tracks of raw black metal from this Southern Californian two-piece. Current/Past members of SS Hammers plus others. Their debut release features three studio and two live recorded tracks. Dubbed on high quality chrome cassettes and packaged in an oversized case.
1. War In The Homeland
2. Torche For Two
3. Circle of Wolves
4. Spirit of Burned Heritage (Live)
5. Collapse of Former Rule (Live)
All tracks recorded in Los Angeles, California.